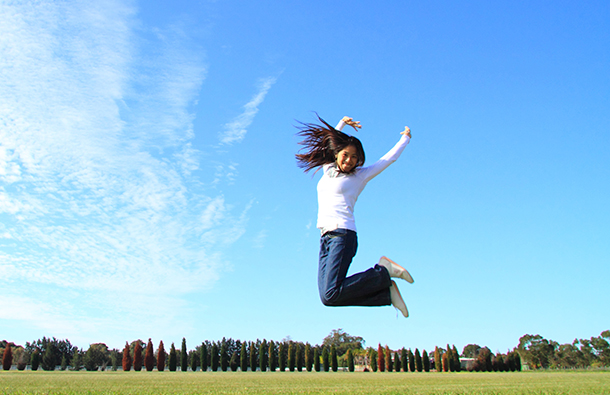 We believe that every day is Earth Day. During this first full month of spring we're reflecting on what drives us: empowering people like you to act on climate change.
Climate change is undoubtedly our planet's greatest challenge. The most recent report from the International Panel on Climate Change (IPCC) warns that we only have 12 years to correct course and phase out fossil fuels. The effects of climate change are happening right now, in all parts of the world. In the U.S., the recent deluge of rain and snow dumped on the Midwest from a "bomb cyclone" and the raging California fires are reminders of the present, real dangers we face from ignoring climate change.
Each April We're Recharged by Earth Day—and You Can Be, Too
The good news is there are solutions. We believe that business can be used as a force-for-good to solve social and environmental problems—like climate change. That's why we exist—our vision is a world free of catastrophic climate change with pure, clean air and abundant renewable energy. Our customers know they're making a difference every day by choosing clean energy over fossil fuels to supply the energy their homes use for electricity.
How is Energy Use Affecting the Planet?
Energy production and use is the biggest contributor to global warming, and it's crucial that we all shift away from fossil fuels as a source for electricity. The electricity sector, which makes up one third of our country's carbon emissions, might be the place where we can all make the biggest impact. With more clean, renewable energy such as wind and solar, we can all have cleaner air, boost local economies with new jobs, prevent illnesses related to pollution, and avoid the worst impacts of climate change.
What Can You Do to Make a Difference for You and Your Family?
Fortunately, in many states plus Washington D.C., residential utility customers have the right to choose the source of their electricity. In addition, customers in many states can subscribe to community solar farms—and more states are adding community solar every year.
When you choose CleanChoice Energy, you can sign up quickly and easily within minutes. By supporting clean energy, our customers are also funding renewable energy projects in regions where they live—and helping drive more investment in this growing industry. So far, our customers have collectively reduced their carbon footprint by avoiding four billion pounds of carbon pollution. That's the equivalent of preserving 2.1 billion acres of forest or keeping 390,000 cars off the road for one year!
Today, and every day, at CleanChoice Energy, we're excited to offer a climate solution, instead of being part of the climate problem. Whenever our customers turn their lights on, they're helping create the clean energy present—and future—that we all deserve. Now that's something to celebrate!
Learn how you can easily switch your home or business to 100% pollution-free clean energy today!