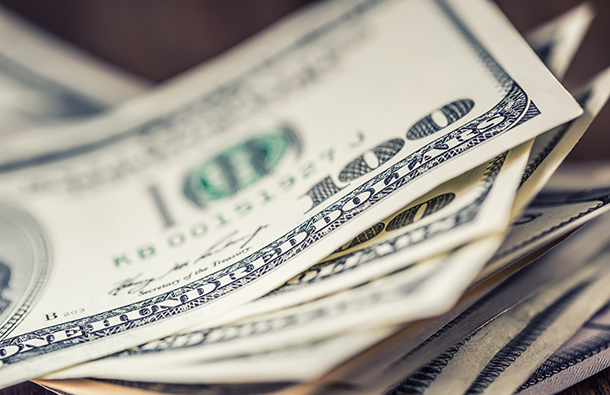 Every day, renewable energy is proving to be a cleaner and cost-effective solution to fossil fuel-based energy.
In the risk-adverse world of global financial services, there's a transformation taking place—and it's all about renewable energy.
The number of banks, insurance companies, and investment firms that are embracing renewable energy is growing. Many of these financial behemoths no longer equate investing in renewables with less profit. Instead, moving away from fossil fuels is seen as simply necessary because the fossil fuel market is fraught with too much risk.
Financial Services Are Investing in Solar and Wind Power
The first renewable energy adopters tended to be from the tech industry, such as corporations like Google, Apple, Microsoft, and Facebook. But businesses from other industries, including the world of finance, are getting on board.
Some banks and insurance companies are investing in renewable energy, and no longer supporting funds or companies that rely on old fossil fuel sources like coal and oil. More stories are appearing about companies no longer investing in mines, power generators, and companies that use or produce coal.
Earlier this year, mega-financier BlackRock's global head of business, Jim Barry, said the company's $5 billion investment in renewables was based on the firm's observation that there is a fundamental shift going on in power generation. "The transformation that's underway is about cost—it's fundamentally being driven by economics." Prior to that, BlackRock "had exceeded a $1 billion fundraising target for wind and solar investments for its clean energy fund. This underscored investor interest in renewable energy amid policy uncertainty in key markets."
Banking giants Goldman Sachs, Bank of America, and JP Morgan Chase are all increasing their investments in renewable energy and pledging to rely increasingly on renewable energy. And, just this week, banking giant Wells Fargo has pledged to spend $200 billion over the next decade, with half going to renewable energy, clean energy technologies, sustainable transport, and green bonds. The rest will finance sustainable agriculture, recycling, and conservation projects.
Losing Faith, and Finances, in Fossil Fuels
Financial and insurance companies are used to taking the long view. Their teams of actuaries look decades into the future to determine sound investments. Increasingly, climate change is being seen as a threat to their financial goals.
Looking inward at their own operations, some global insurance companies, primarily based in Europe, have divested themselves of funds and companies with ties to coal, citing fossil fuels as an increasingly bad investment. They have moved $2.1 billion, or about 12 percent of global insurance assets, away from coal, tar sands, and other dirty fuels—a significant shift.
On the American side of the Atlantic, many cities and universities have divested from their fossil fuel investments—most notably and recently the city of New York.
New York City shed its pension plans of nearly $5 billion in fossil fuel investments in a public show of support of NYC residents, the planet, and for renewable energy. Economists and supporters hope that this move will inspire other cities to follow suit.
Individual investors can follow in the footsteps of New York City by divesting their personal investments of fossil fuel ties. A number of resources are easily available including DivestInvest.org, The New York Times, Forbes, As You Sow, Fossil Free Funds, and Investors for Climate Change Solutions. Our own recent blog post, "Divest from Fossil Fuels—and Invest in the Planet" is a thorough yet concise resource.
The examples in this blog are a good sign that financial entities are starting to take renewables seriously. When it comes down to the economics of climate change, the more forward-thinking financial institutions know that the potential financial losses to themselves are too great if they continue to do "business as usual."
CleanChoice customers are already helping mitigate climate change impacts by choosing a clean energy option. Join a community of others, just like you, who want a healthier, more sustainable future. Learn how to switch your home or business to 100% pollution-free clean energy sourced by wind and solar today.