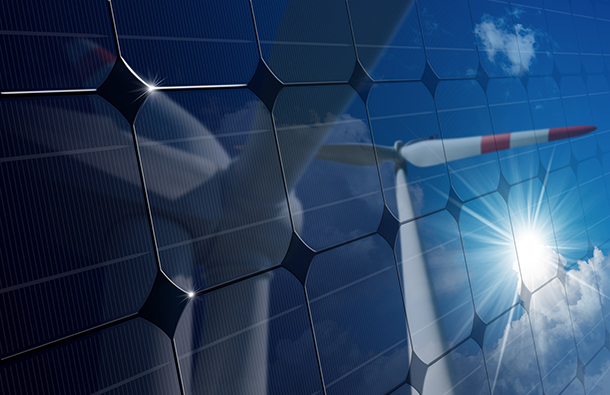 Solar Farms Can Become Pollinator Habitats and Help Save the Bees
In the process of gathering pollen and nectar for their hives, bees and other insects pollinate flowers, ensuring that plants reproduce and yield fruit and other products. They contribute to pollinating nearly 75% of all human food crops worldwide, and yet humans have put tremendous stress on insect pollinator habitats with pesticides, land development, altered hydrologic patterns, and other actions. As a result, insect species have declined significantly. Ultimate loss of these insect species could have global scale impacts — wiping out crops, elevating food production costs, and compromising human nutrition.
Researchers at the US Department of Energy's (DOE) Argonne National Laboratory, are investigating ways to use pollinator-friendly solar power as a way to reinvigorate pollinator habitats.
Dominion Moves Forward with Plan to Build Wind Turbines Off VA Coast
Dominion Energy Virginia announced on Friday a venture to build two wind turbines in federal waters 27 miles off Virginia's coast, with the Denmark-based energy company Ørsted. The development would be Virginia's first offshore wind facility and the nation's second commercial-scale offshore installation, following one off the coast of Block Island, RI, operational since 2015. If given approval, the facility is expected to begin generating emissions-free energy for customers by December 2020. The project could pave the way for 2,000 more megawatts of carbon-free generation in the adjacent 112,000 acre wind energy lease area—enough energy to power about half a million homes, according to Dominion.
Organic Solar Cells Set Remarkable Energy Record
Chinese researchers have taken what they say is a major step forward for the development of a new generation of solar cells. Manufacturers have long used silicon to make solar panels because the material was the most efficient at converting sunlight into electricity. But organic photovoltaics, made from carbon and plastic, promise a cheaper way of generating electricity. A new study shows that organics can now be just as efficient as silicon.
Check back at the end of next week for the latest clean energy industry news!