Election Day 2016 is coming up fast and the stakes couldn't be higher for clean energy and the planet.
The presidential election has attracted a lot of attention and the choice between the two presidential candidates couldn't be more glaring, especially when it comes to their stances on the issues of climate change and clean energy development.
As the CEO of a renewable energy company that is working to address catastrophic climate change, I can't let the election season pass without comment.
As we just saw with Hurricane Matthew, the impacts of climate change are real. Matthew was upgraded from a Tropical Storm to a Category 5 Hurricane in only 36 hours—something almost unprecedented and caused by the very high sea surface temperatures intensified by global warming. Already, Hurricane Matthew has taken hundreds of lives and decimated the clean water supply in Haiti, threatening to worsen the cholera outbreak in the country. Scientists are already telling us that climate change will lead to more frequent and more deadly weather events. We need a president that understands this threat of climate change and our responsibility to act.
On the issue of climate change, Donald Trump and Hillary Clinton basically agree on nothing except maybe how to spell the words.
Donald Trump denies the existence of climate change. No, let me go farther on that. He believes that climate change is a conspiracy invented by the Chinese. I'm not joking. He actually said that in, of course, a tweet.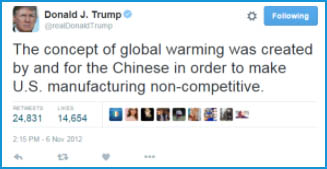 The denial of the science of climate change is deeply irresponsible and downright terrifying when coming from somebody seeking to become our next president. Until Trump, we've never had a president or presidential nominee of a major party who denied climate change.
Trump takes it a step further with his attacks on solar and wind. He accused the wind power industry of killing birds despite the Audubon Society—the pre-eminent bird conservation organization—calling for more responsible wind development in order to save birds from air pollution, water pollution and the threat of climate change.
And Donald Trump derides solar energy—using outdated cost projections from the early days of solar to bolster his arguments.
In contrast, Hillary Clinton is a champion for clean energy and climate solutions. Clinton is calling for enough renewable energy to power 100% of American homes by 2027—even more ambitious than the Obama Administration's current plan.
To get there Hillary Clinton wants to install 500 million solar panels during her first term—this would be a 700 percent increase from current levels. There is of course a lot more that can be done but this is a big step forward.
That's not all. The EPA's new Clean Power Plan has the potential to reduce carbon pollution dramatically. Donald Trump wants to repeal it and abandon the groundbreaking Paris agreement—an international consensus to reduce carbon pollution. Hillary Clinton supports the Clean Power Plan and wants to build on the Paris agreement. With Hillary Clinton's support, the EPA will be empowered to protect Americans from harmful air pollution saving thousands of lives annually.
The choice couldn't be more clear this election. We need to vote for clean energy and vote for climate solutions. Please take a moment to commit to vote for a better planet this election day.
Tom Matzzie
CEO & Founder
CleanChoice Energy