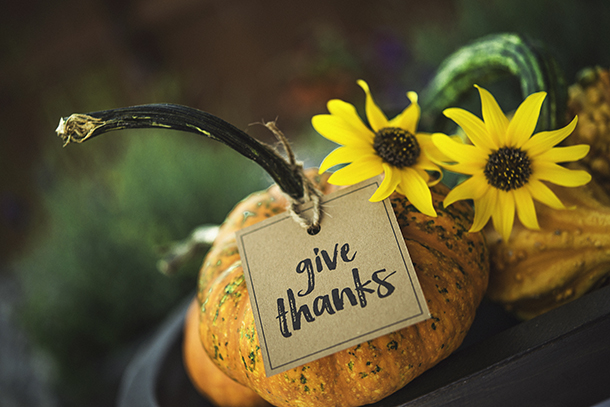 Dear Clean Energy Supporter,
As the leaves change color and we sit down with our families for a Thanksgiving meal, I would like to take this time to reflect on a few of the things that we have to be thankful for.
Our customers: Because of people like you, we've grown from an intrepid startup to a community of nearly 100,000 who believe in the power of 100% wind and solar power to change the world and create a livable planet for all.
Our employees: This year CleanChoice Energy was named one of the 500 fastest growing companies in America by Inc. 500 and named a "Best Places to Work" honoree by the Washington Business Journal. We're proud and honored to be recognized among so many innovative peers across various industries. How we treat each other matters. I'm proud to work with such a dedicated group of people, who come to work each day to make the world a better place and strive to create a healthier world for all.
Our community: CleanChoice Energy, along with 1,000 U.S. governors, mayors, businesses, investors, and colleges and universities, pledged to adhere to the promises made in the Paris Climate Agreement in order to ensure the U.S. remains a global leader in reducing carbon emissions. Since day one our mission has been to make clean energy accessible to everyone and we're proud to honor that commitment.
Clean energy jobs: Last year alone, jobs in the solar and wind industries out-numbered and outpaced those in other sectors. Over the past four years, solar jobs have increased by over 20 percent, faster than the national rate. Last year, one in 50 new jobs were in the solar industry—that's 17 times higher job creation than the national average in 2016.
More solar: In 2017, the solar industry is poised to install more than 12 GW of solar capacity. This year CleanChoice Energy launched the first New York City residential community solar farm, with many more anticipated throughout the regions we serve, bringing clean energy closer to home and one step closer to achieving our mission of making clean energy accessible to all.
More wind power: This year CleanChoice Energy surpassed two billion clean kWh of wind and solar power served, equal to the generation from 355 wind turbines. The Department of Energy's Wind Vision Report says that wind energy could potentially support more than 600,000 jobs by the year 2050 and help avoid 12.3 gigatons of greenhouse gases.
Over the last several decades tremendous progress has been made to protect our environment including the passage of state and national environmental laws that keep our communities healthy like the Clean Air Act and the Clean Water Act. In the last decade we've seen the birth and growth of a robust clean energy market that is steadily powering the world with abundant, clean electricity. We've come such a long way in such a short time because there are millions, if not billions, who want to live a better life on a healthier planet.
Just as every vote matters, every action you take that impacts this planet matters. Thank you for all you do to make the world a better place. I am grateful to be part of this community that's laying the groundwork for a planet powered by 100 percent renewable energy.
Onward with gratitude!
Tom Matzzie
Founder & CEO