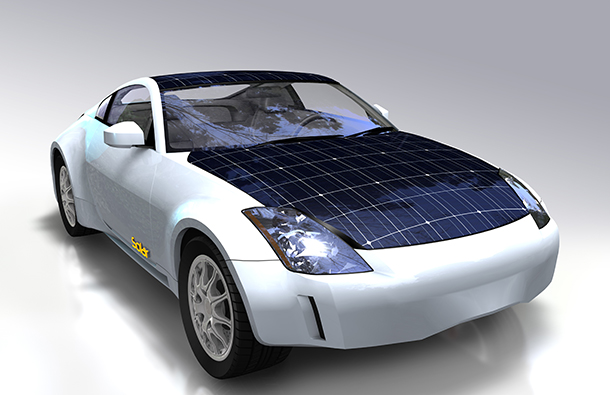 A lot of the energy Americans consume each year—and a lot of the carbon dioxide produced—comes from just moving things and people around the country. Nearly a third of all Americans' energy consumption goes to transportation. That results in 1.8 billion metric tons of carbon emissions—27 percent of Americans' total emissions. With transportation's negative impact on air quality by contributing so much pollution, people are working hard to find alternatives.
For millennia, people have used solar-powered transportation in the form of critters like horses, llamas, camels, donkeys, and yaks, but those certainly aren't always feasible. (Though some sustainable farms are trading their tractors in for draft horses).
What are the solutions being explored for more sustainable, cleaner transportation? Solar technology may be the answer.
Putting Solar Charging Stations Where the Cars Are
Designs for solar transportation on large scale is currently aimed at transporting people—either in the form of cars, buses, or trains. Technically, any electric vehicle (EV) could be solar-powered, as long as the energy used to charge up its battery comes from the sun.
On a smaller scale, and for fewer passengers, a number of homes and businesses already use solar power to charge electric vehicles, and increasingly some areas are looking to solar carports to serve as EV car charging stations. Soon "no gas" fuel stations may even offer solar-only based charging options, while many other recreational venues such as zoos and parks may provide free charging stations. Eventually, roadways themselves could charge electric vehicles, like a roadway being built in China where clear concrete allows solar panels in the road itself to generate power.
Creating the First Generation of Solar Powered Cars
Cars that are directly powered by solar energy are being developed to harness their own solar power using on-board panels. The vehicles then use that energy to turn their wheels and propel forward. Such research and development is currently being boosted forward through design contests. These solar car competitions offer the opportunity for inventors and enthusiasts to share the latest designs they're working on.
One of these design contests took place in Australia this year, in which solar cars raced from Darwin to Adelaide in the World Solar Challenge, and showing off solar car designs. The winner—the first across the finish line—was a sporty one-seater, but other cars built more for practicality and seating four to five people, also won awards. These cars were mainly built by universities and research teams, and researchers envision that such cars will someday be a viable, commercially sold option for families.
Riding Solar Powered Public Transportation
Moving along a little faster down the track to being a transportation option available to the public are solar powered buses and trains. A handful of solar buses are operation in New Mexico, the United Kingdom, Australia, China, Austria, and Uganda. Like solar cars, solar buses are not yet in mass production, but analysts are more optimistic about buses, which, while expensive, can be more readily purchased by municipalities and funded by grants and donations.
Along the same lines are solar-powered trains. Again, electric trains can be powered by solar panels, but some trains carry solar panels on their roofs. India boasts trains that run partly on solar power, and the world's first fully solar-powered train opened up last month in a beach town in Australia. Running on out-of-use train tracks, the train uses specially-modified curved solar panels to run, and solves major transportation issues in a town that otherwise had few public transportation options.
Solar vehicles—cars, trains, and buses—are close to being real, clean energy transportation options. Whether you're interested in affordable fuel costs; being more sustainable; or cutting unsightly localized fog and engine noise, solar vehicles will be yet another way to increase energy independence and ensure a greener, cleaner future.
You can make a difference now towards a cleaner future by choosing 100% clean energy for your home or business. CleanChoice Energy supplies customers with 100% renewable energy from wind and solar. Learn how you can easily switch your home or business to 100% pollution-free clean energy today.