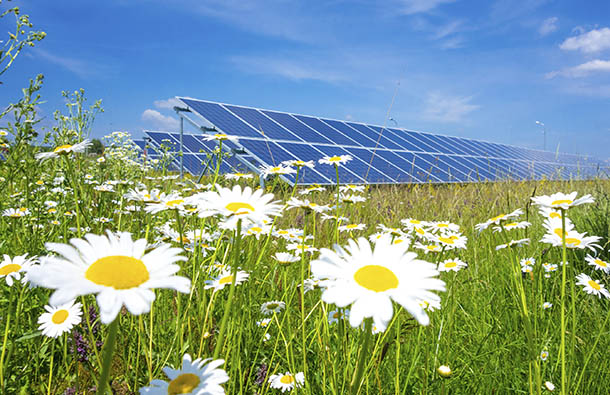 From its creation to now, solar power has come a long way. From the less efficient panels of the 20th century to the amazing innovations of the 21st, solar continues to break records and transform the energy landscape.
Solar technology goes all the way back to 1887 when the photoelectric effect was discovered. However, it wasn't until the 1950s, when silicon was introduced, that solar power became a potentially viable technology. NASA was one of the earliest adopters of solar technology. Vanguard 1, an Earth-orbiting satellite, used six solar cells to produce one Watt. After NASA's adoption of the technology, more investment in solar research drove the price down. With the reduced cost solar became more attractive, resulting in the creation of solar farms and the increased popularity in rooftop solar installations.
Since the days of Vanguard 1, solar technology has evolved rapidly. The typical solar panels of Vanguard 1's day were only 6% efficient. Today, the typical panel is about 30% efficient. In 2014, a multi-junction solar cell set the world record with 46% efficiency. Through new research we may soon beat this record. Researchers at Technion Israel Institute of Technology recently used thermodynamic tools to boost efficiency by 70% to 50% efficiency overall.
According to the U.S. Energy Information Administration, solar energy represented 39% of new electric generation capacity in the U.S. in 2016 and in 2015 the job growth in the solar industry was 12 times the overall job growth rate. Advances in solar technology are being developed all over the world. China has become a global leader in solar development and is expected to install nearly 30 gigawatts this year. India is also working toward an ambitious goal of 100 GW of installed capacity by 2020. In comparison, the U.S. has a total installed capacity of 45 gigawatts with an average annual growth rate of 68% over the last 10 years. GTM Research predicts that by the end of 2017 the global solar market will reach 85 gigawatts and power over 6,300 homes.
Increases in efficiency help drive growth in the industry and empower innovators to create new new ways to power the world with the sun's rays. In 2015, solar panels as thin as paper were created. These solar cells can be inexpensively produced with an industrial printer and could be used to provide power in rural communities. While research on these paper thin PV cells is currently being conducted to make them more durable, these panels are an exciting opportunity to give solar access to millions.
Solar technology continues to evolve, with innovative designs being developed all the time. New research will continue to drive down the cost of the panels and create new and innovative ways to use solar energy to power the world. By choosing 100% wind and solar power from CleanChoice Energy, you play an important role in accelerating the growth and innovation within the solar industry.
Go to CleanChoiceEnergy.com/Refer to share 100% regional wind and solar power with your friends and family. For each successful enrollment you'll both receive a $25 VISA gift card.