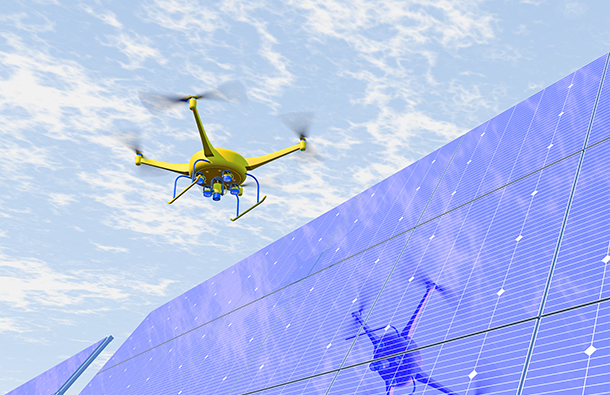 Thousands of creative, innovative minds are working to make renewable energy more efficient, less expensive, and more accessible. And, by their inherent design, renewable resources often employ technologies that are the most cutting-edge on the planet. Enter the drones.
With applications in surveillance, photography, security, retail, and logistics, the value of drones has been proven. But how are they being used for the solar industry?
Here are a few fascinating ways that drones are used during a solar farm's entire life cycle: for site planning, building, and monitoring.
Evening the Field
Renewable energy can sometimes start at a disadvantage: established energy sources tend to have decades of history around how plants are sited, built, and established, and how the power is collected, stored, and distributed. It can feel like an uphill battle. That's why renewable energies need to work twice as smart, taking advantage of innovations that enable efficiencies during site deployment and with operation and maintenance. This is where drones can help.
Drones can fly over, photograph, and survey a landscape far faster than traditional methods. More efficient farms mean less environmental impact. Building a solar farm on the smallest area needed to generate power is important, so the drones are invaluable in helping achieve that goal.
They can pinpoint the most strategically effective sites for solar panels and wind turbines. Paired with custom software suites, drones can factor in a range of variables including local climate variations, prevailing wind patterns, and soil types. They can even create three-dimensional dynamic maps that make selecting a site for a wind or solar farm faster and far more efficient.
Drones can even help individual people site solar panels or wind turbines most effectively on their own roofs or acreage. Making the most strategic choices saves time and start-up energy costs—both being valuable resources when launching an energy endeavor.
Eyes in the Sky
Once the plant, farm, or even individual panels and turbines are situated, drones can still help maintain renewable energy. On enormous farms where multiple construction teams are working to complete a plan, drone oversight can help supervisors and managers keep "the big picture" in mind; helping them visualize progress as well as predict any hiccups or speed bumps.
This oversight role doesn't end once the construction does. On a facility boasting thousands of solar panels or dozens of wind turbines, any small inefficiency can contribute to an overall loss for the company. Drones can patrol using cameras on various wavelengths, including infrared, to pinpoint any inefficiency in the system—whether an energy leakage or broken panels or turbines.
That surveillance counts double in times of crisis. For example, when natural disaster strikes, drones can quickly and safely survey energy pathways looking for any problems or breaches. Promptly addressing these issues leads to fewer environmental effects and less time for customers without power and light.
To see drones in action at solar farms, check out some videos that show how it works.
Planning for the Future
Drones play a unique and exciting role in renewable energy. While the solar industry is just starting to realize and apply their usage, it's an experimental time for drones. The technology, its role, and the laws surrounding drones are evolving every day. But overall, the solar industry will continue to invest in innovations like drones to ensure a brighter, more renewable future for us all.
CleanChoice Energy supplies customers with 100% renewable energy from wind and solar power. Learn how you can be a part of the renewable energy revolution, and switch to clean energy today.