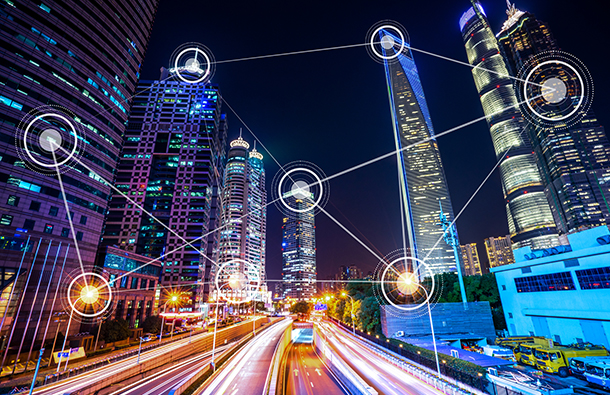 Imagine a city where the lights are on only where they are needed; traffic patterns change and adapt throughout the day with the transport of goods and people moving smoothly; and everything is powered by clean, renewable energy. New technologies are making it possible for urban planners reimagine how cities look, function, and even how they're designed. They're envisioning "smart cities," which serve modern urban life using the best of technology to make the whole experience better.
Smart cities are also becoming a necessary move for a more sustainable future. Why is that, you ask? Because by 2050, 60 percent of the world's population will live in urban centers. That's double the amount people living in cities in 1950, which was roughly 30 percent.
What Is a Smart City?
Not everyone agrees on exactly what makes a city "smart." The overall goal of a smart city is to use cutting-edge technology to use energy and other resources as efficiently as possible, and to offer the highest quality of life for those who live and work there. That means transforming existing cities into smart ones incrementally, though there are some smart cities that might be built from the ground up. It can include tech like the Internet of Things (IoT), automation, and machine learning. As described by the publication Renewable Energy World, "As cities look to improve the quality of lives of their residents, they are embracing smart city technologies to usher in clean energy, connectivity, safety, better public transportation and much more."
Initially, smart cities were envisioned as technology driven—where technological ability and availability dictated all the innovations put in place by the municipalities and local governments. But the next iteration of smart cities—and the one many argue will be the most successful—is citizen led. This means people and the communities themselves passionately advocate and work for smart, efficient, sustainable cities with shrinking carbon footprints.
Smart cities take electricity to run, so they have to be sure that their energy efficiency and improved use of renewable energy outweighs any cost to the electrical grid. Some cities are becoming smarter by also transitioning to renewable energy. For example, Minneapolis, Minnesota is on a journey to power the city with 100% renewable energy within 15 years.
Smart Cities Are Sprouting Up Across America
What are some examples of cities going smart? San Diego began by networking 3,000 LED streetlights. Switching to LED bulbs and networking them to enable them to maximize light and efficiency immediately saved the city nearly $250,000.
San Jose, California, in the heart of the Silicon Valley, is one of the pioneering smart cities. Dating back to 2005, the city was working to improve its efficiency and functioning with increased Wi-Fi coverage, which enables connectivity for everything from street lights to automatous shuttles to communicate and react to changing conditions. San Jose's innovations have already improved their air quality and energy efficient. Further innovations will only help them on their path to being able to buy bulk solar and wind energy as a city and run solely on renewable energy.
One of the lessons that San Jose learned early is that making sure the right personnel and procedures are in place is as important as any technical or sustainable advancement. The ability for citizens to emphasize what is important to them and for innovative action to be taken across the municipal board, rather than end up siloed, is vital to having efficient, adaptable smart cities of the future.
California isn't the only one interested in improving its cities' smartness. Detroit, Cleveland, Milwaukee, Columbus, and even Toronto are all beginning to seriously invest in smart city technology and take steps to make their communities more efficient and sustainable—and, as a bonus, more pleasant and livable.
Here at CleanChoice Energy, we're helping consumers be smarter and greener about their energy choices by providing customers with 100% clean, renewable energy sourced from wind and solar power. Learn how you can switch your home or business to renewable energy today!