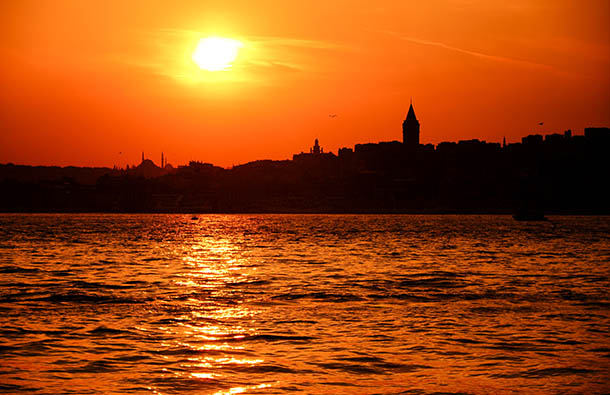 How many times recently have you said to your neighbors, "Can you believe how hot it is? What's going on?"
Unless you live in the Pacific Northwest, the odds are high that you've been wearing shorts and drinking more cool drinks this spring. That's because we've been experiencing some of the warmest winters and springs ever recorded.

So, where have we been? And where are we headed?
The map above shows how temperatures during January through April compared with historic averages since 1895. Most of the nation has felt record or near-record heat recently.

For the nation as a whole from January through April, temperatures climbed 4.5 degrees Fahrenheit (F) warmer than average. That made it the second warmest January-April period since weather records have been kept. Only the same period of 2012 was hotter.
What Can We Expect?
More of the same. That's the forecast from the National Weather Service Climate Prediction Center. The map above shows what are called temperature probabilities—the likelihood of temperatures being above average, below or close to normal. The greater the probability for the temperature to be above average, the darker color.

The experts predict the hotter-than-normal weather should continue throughout the summer—over most of the entire United States. The odds of hotter-than-average temperatures, shown by the dark orange bands, are greatest along the Gulf Coast, the desert Southwest, and, in New England and New York.

Is this hot weather the new normal?

Weather is hard to predict because it's subject to so many variables. But climate scientists tell us the Earth's climate is warming. And one huge factor in that warming is the accumulation of greenhouse gases in the atmosphere from the burning of fossil fuels. If emissions of greenhouse gases continue to increase, the Northeast U.S., for example, is expected to warm by an average of from 4.5 degrees F to 10 degrees F by 2080, according to the National Climate Assessment.

You can make a difference in many ways, large and small. One important action you can take is to support the production of electricity from renewable resources like the wind and the sun. At CleanChoice Energy, our mission is to make clean energy accessible for everybody—even if you can't install solar panels on your roof. Learn more about CleanChoice Energy and how we make it easy to reduce your impact.