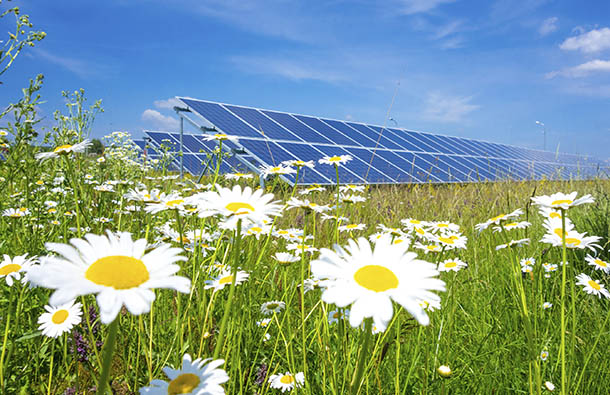 There are many new and exciting innovations on the clean energy frontier. This month we're bringing you just a few of the latest green technological innovations that are helping the world realize a future free from fossil fuels. From the United States to Switzerland to the Netherlands, people are blazing new trails in the clean energy industry and teaming up with local cities and universities to make a cleaner world a reality. From small scale experiments to large multi-national adaptations, here are a few of our favorite success stories:
In Las Vegas, the clean tech start-up EnGoPlanet teamed up with the city to install four Smart Street Lights. These lights use solar and kinetic energy to power themselves. The company installed energy-harvesting pads in the pavement, so that the energy of pedestrians footsteps powers the lamps. EnGoPlanet estimates that traditional streetlights cost $40 billion each year, resulting in more than 100 million tons of carbon pollution annually2. This Smart Street Light technology could revolutionize the way cities power their lights.

In 2014, the first solar road opened in the Netherlands. The SolaRoad bike path spans about 250 feet near the town of Krommenie. It was constructed using solar panels covered in layers of glass, silicone, and concrete. In the first six months, the project surpassed anticipated generation. The technology behind this bike path could also be adapted for the use of roadways and allow pavement to generate electricity around the world. In fact, in the UK a project is underway that would charge electric cars as they drive on the highway.

A few years ago, Utah State University introduced the Aggie Bus, an electric bus that charges itself along its route4. It uses wireless charging devices at its stops to charge along the way. This induction charging technology has already spread fast. Solar buses have already been a reality in China, India, Australia, and Uganda for years. Chinese estimates place battery electric buses at 523 units in 2010 and a whopping 94,260 in 2015, bringing mass scale to a technology that has the potential to lower greenhouse gas emissions around the globe. India has also made steps to create a massive force of electric buses. The city of Bengaluru has had this type of technology since 2014 and is set to add 150 more buses later this year. In the U.S., Proterra has supplied local city governments across the country with enough electric buses to cover 2.5 million miles. With this type of technology, public transit will become more efficient, more cost-effective, and cleaner.

Source: CleanTechnica10
The ocean's endless motions could provide a large source of energy. In September of last year, the first U.S. wave-powered generator went online in Hawaii and feeds into Oahu's power grid. Azura, the company that designed this device, plans to increase capacity to 500 kilowatts. Research is currently being done to improve the technology, and to ensure that it does not disrupt fragile aquatic ecosystems. Initial trial runs have shown that wave generators could be beneficial to fish by creating artificial reefs. In Perth Australia, Carnegie Wave Energy Ltd. constructed a wave generator that powered Australia's largest naval base for over 12 months. Now, the company is building similar technology off the coast of the UK. While wind and solar technology are more advanced, wave-powered technology is developing quickly and could be a major player in the future.
In Switzerland, the Federal Institute of Technology wants the Science City Campus to be CO2 emission free in less than 10 years. In one innovative solution, the campus is constructing a system that will allow the summer heat to be stored underground and used to heat the campus during the winter. The heat will be stored in a circulating water system underground, and in the winter the heat will be pumped up through this system. Once completed in 2020, Science City will only need traditional energy sources to power one-twelfth of its energy needs, and it's expected to save the campus a million dollars per year.
Residential battery storage is another sector poised to revolutionize energy consumption. In fact, residential battery storage is a growing industry, that some expect to keep pace with rooftop solar growth. Many companies are taking notice of this growth. Tesla has already released their home battery storage unit, the Powerwall, which can hold up to 14 kwh, enough energy to power the average home for one day. Other notable companies such as Panasonic and Mercedes-Benz have entered this market. With the growth of residential battery storage, the home energy market is likely to change over the next few years.
Innovations like these will continue to transform the energy market, help slow the effects of climate change, and create a healthier world. According to the Department of Energy, solar power in America has increased seventeen-fold from 1.2 gigawatts (GW) to an estimated 30 GW in the last nine years, imagine how much further we can go in the next ten. Clean energy now has the potential to power 5.7 million homes in the United States and estimates show we have the potential meet 27% of total U.S. energy output, with solar alone, by 2050; and another 35% with wind power by 2050. By choosing to power your home with 100% wind and solar energy, CleanChoice Energy customers have added two billion kWh of wind and solar power to the grid. By choosing clean energy you help support the renewable energy industry and a cleaner world for all.
Have a favorite new clean energy technology? Share it with us at Facebook.com/CleanChoiceEnergy and Twiter.com/CleanChoice.