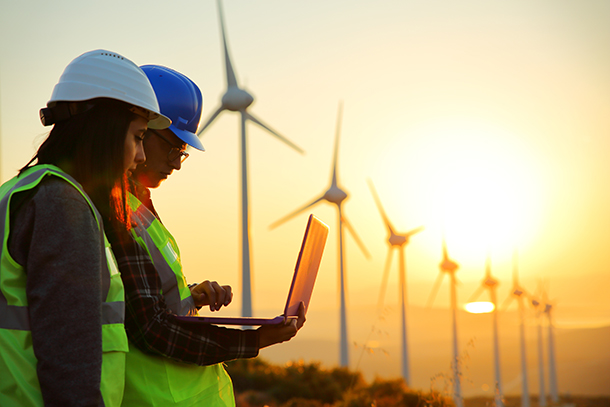 The US Department of Labor says that Labor Day is an annual celebration in recognition of the "Contributions workers have made to the strength, prosperity and well-being of our country."
Few industries support the strength, prosperity, and well-being of the country more than the renewable energy sector. People who work to create, install, maintain, support, and perfect renewable energy efforts are stewarding the future in the pockets of their cargo pants, protective coveralls, sensible khakis, and tailored suits.
In short, the clean energy workforce is helping build the economic and environmental future of our country, and our planet.
Clean Energy Jobs Are the Future
Jobs in clean energy like wind and solar are growing, while jobs in more traditional energy fields such as coal are falling dramatically. A report in March of this year found that car washes, casinos, and museums all—separately—employ more people than the coal industry, which famously employs fewer Americans than the fast food chain Arby's.
A 2017 study by the US Department of Energy found that in 2016, more Americans worked in solar energy than in gas, oil, and coal energy combined. Solar power jobs grew by 25 percent in 2016, rising to employ some 43 percent of all Americans working in the electric power generation sector. Wind power grew by 32 percent in the same period, meaning that fossil fuels accounted for only 22 percent of energy jobs in 2016.
Where the Jobs Are
How energy workers are employed in your state—and whether they're more likely to be employed by fossil fuels or green, renewable energy—varies by state, but the scale is slowly tipping toward the renewable energy jobs. Anyone interested in preserving America's economic future would do well to focus on renewable energy as the future.
At the same time that wind and solar are vital and growing green energy fields, the field of energy conservation and efficiency is also important—and employs a further 2.2 million Americans.
While the United States is still lagging behind other countries, including the European Union, China, and Brazil, it is working to catch up. Internationally, nearly ten million people work in renewable energy. Check out this fascinating analysis of how those numbers break down.
If You Want to Wear a Green Collar
What's the clean energy field looking for, as far as employees or leaders? The biggest and fastest growing jobs tend to be the ones with specialized energy know-how, but most CEO's say they hire more for attitude and aptitude than for experience. They can train experience, but an attitude can make or break an industry.
While the fastest growing jobs in renewable energy include engineers (electrical, mechanical, civil and even aeronautic), construction workers, farm and plant operators, and farmers, renewable energy companies need passionate people with all sorts of backgrounds. Jobs such as venture capitalists, auditors, investors, project managers, communicators, marketers, software engineers, salespeople, and customer service representatives are all necessary to support this growing field.
Everyone can support and celebrate the green energy sector—by supporting it, by spreading enthusiasm, and by becoming directly involved. Here at CleanChoice Energy, we work to address catastrophic climate change by providing customers with 100% clean, renewable energy using wind and solar power. Learn how you can easily switch your home or business to renewables today.