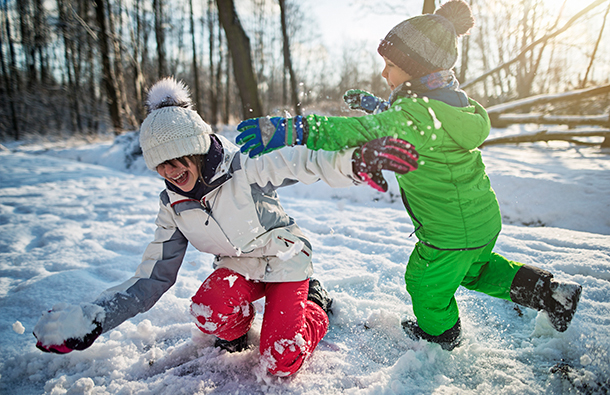 It's a conversation many have had or overheard recently: It's so cold! The planet can't possibly be warming. With many U.S. states facing record low temperatures—plus extreme wintry weather including icy winds, freezing rain, and snow—it's only natural to ask such a question.
The short answer is that while the weather may be extremely cold, the overall trend is that the Earth is warming. Time for an explainer!
Global Warming Doesn't Mean the End of Winter
Cold weather is going to continue to exist as long as cold air congregates around the poles, and every now and then—when conditions are right—that air will cause frigid weather elsewhere on the planet. Global warming doesn't mean the end of winter; it just means that winters—overall—will be warmer and shorter. Cold snaps, winter storms, and all the rest of the wintry weather will still happen, just not as frequently.
Now here's the science behind that last paragraph…With the Arctic warming faster than most of the planet, the resulting loss of sea ice during its winters creates a heat transference effect from the ocean to the atmosphere. This then causes a weakening of the polar vortex winds over the Arctic (the "polar vortex," one of the planet's jet streams, usually holds cold air near the North Pole). We then end up experiencing the results of this effect well below the Arctic itself. This quote from a climate scientist at the University of Michigan summarizes the effect well, "Those winds usually insulate the rest of the Northern Hemisphere from freezing Arctic temperatures, But, as the winds have weakened, it's gotten easier for freezing Arctic air to swoop further south. And that is due to the Arctic warming, which in turn is due to human emissions of greenhouse gases and primarily burning of fossil fuels."
Confusing Weather Data with Climate Trends
It's easy to be confused by these concepts. And even by the difference between "weather" and "climate." A key thing to remember is the difference between two types of data: points and trends. Climate change, also called global warming, is a trend: it's the accumulated information from millions of weather readings all across the planet. Each individual day, or weather event (aka "the weather) is only one data point that makes up the larger trend.
The accumulated data trends inarguably show that, despite several dramatically cold data points, 2017 is on track to be one of the warmest years in recorded history.
It's also a matter of taking a wider, more holistic perspective on the planet as a whole—while North America is bundled up in Arctic air, other areas of the planet are still ten to 25 degrees warmer than average.
You Can Be a Data Point Toward a More Promising Trend
The good news is that, while climate is changing due to rising carbon dioxide levels, that change is not written in stone. Every action that every human being on the planet takes to reduce his or her carbon footprint helps. Every little data point—a person switching to renewable energy or limiting power use—has the potential to be part of a new trend to a brighter future, with a climate less impacted by the effects of climate change.
You can make a difference now towards a cleaner future now by choosing 100% clean energy for your home or business. CleanChoice Energy supplies customers with 100% renewable energy from wind and solar. Learn how you can easily switch your home or business to 100% pollution-free clean energy today.