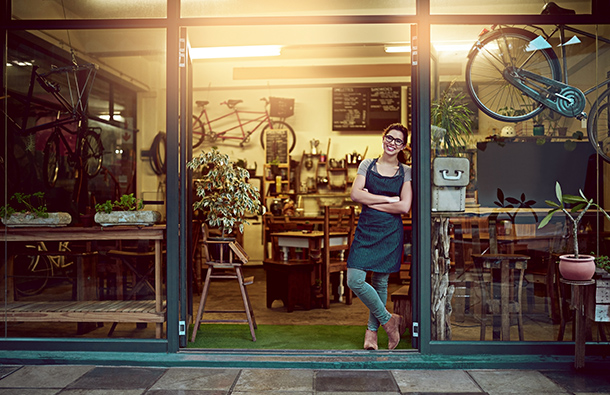 Running a small business is hard work; just ask any small business owner. With major challenges like how to compete with bigger competitors, to more immediate concerns like how to make sure your local suppliers are all working well together, it's easy to just keep doing "business as usual" to simply keep the doors open.
How can you manage and grow the business while using resources like energy most effectively? Using less energy and smartly can make a big difference on your bottom line, and in the eyes of your customers.
What's So Important About Energy Efficiency for Small Businesses?
Did you know that small- and medium-sized businesses account for between 40% and 50% of the United States' energy consumption? Of those businesses, the majority say energy costs are one of their top expenses. This means there is plenty of room for smaller businesses to do more for themselves, while also making a big impact on the planet.
The key take away is that being energy-efficient is simply a good business decision. It means smarter energy expenditures, a smaller carbon footprint, and an opportunity to gain (and keep) customers who appreciate your energy conscious values. Simply said, actions speak louder than words, and being consistently and conspicuously energy efficient shows your customers that you care.
Top 10 Energy Efficiency Tips for Small Businesses
Buy Smart: When looking for equipment, even if it's just office equipment like monitors, printers, copiers, and fax machines, look for energy efficient ones. The easiest way to do that is to look for an Energy Star label or to check out the Energy Star website for the most efficient brands and models.
Be Strategic: Use only what you need. Reducing waste is good for the environment and good for your bottom line. Partner with suppliers who are also energy efficient, reuse wherever possible, recycle materials into new projects, think twice about whether you really need to buy a new item (buy refurbished instead), and turn off machines when they're not actively in use.
Build a Team: No one can single-handedly make a company energy-efficient, though you can lead by example. Make energy-efficient policies part of the company culture and ingrained expectations. Get employees onboard by tracking costs and consumption—such as installing wall meters to track energy and water use, and reward them as energy use goes down.
Audit Your Energy: Whether you hire a professional auditor or perform your own audit, check out your business space and practices for potential leaks or excesses and make sure that the energy you use is used as efficiently as possible.
Track the Temperature: Keeping customers—and employees—at a reasonable temperature is a good way to make sure they keep coming back. Make sure that the thermostat mirrors seasonal fluctuations outside. Investing in a smart thermostat can help even more.
Green Your Store: Planting trees around your property or just decorating with live, indigenous plants can help regulate temperature and improve air quality. It also fosters a comfortable environment for customers and a more productive environment for employees.
Maintain Your Equipment: Be sure you replace and regularly service HVAC systems, and promptly fix or replace leaky taps or faulty wiring. Keeping everything in good working order means fewer unexpected breakdowns and less energy use overall.
Cut Travel Time: When possible, encourage employees to carpool and/or to telework to cut fuel costs and carbon emissions. Assess whether meetings must be in person, or whether a conference call or video chat would work just as well.
Use Electric Vehicles: If your company depends on moving goods, consider using trucks, vans, or cars that run on non-fossil fuels such as electric vehicles. While initial costs may be higher for an EVy vehicle, often they save money over the long run through reduced fuel use and lower maintenance costs.
Switch to Renewable Energy: If you own your own building or property, become a CleanChoice Energy business customer.
CleanChoice Energy can help with a small business move to a more efficient, clean energy source like wind and solar power. Learn how you can easily switch your business to 100% pollution-free clean energy today.