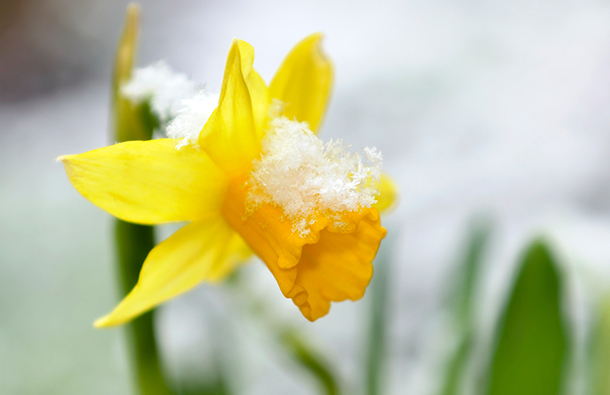 The Bottom Line
Frigid weather forecast for the early days of March
No major weather event caused by El Nino has happened, but may later this year (or not)
Warmer, wetter weather is expected for most of the eastern United States in the second half of the month.
March will get off to a frigid start, with another blast of Arctic air that's been circulating around the northern plains sweeping into the Midwest and East Coast.
As the month moves on, most of the U.S. east of the Mississippi will experience temperatures that are near or slightly warmer than average. While it may not seem like it—with the cold snaps and winter weather—most of the country has in fact had warmer than average temperatures all winter.
Why Will March Start Off So Cold?
The North Pole's melting ice caps have disrupted the normal cold air currents that circle them. As those ice caps melt, the cold air swirls outside its usual routes including, sometimes, sweeping down to the Plains and the eastern United States; delivering the cold weather than dogged the country earlier this winter and that will hit again in the early days of March.
A major precipitation event caused by El Nino hasn't yet occurred, but may still hit sometime this year—or not. El Nino is "when ocean currents cause unusually warm surface water passes heat to the atmosphere, resulting in warmer air that holds more moisture."
Warmer Air Is On Its Way in Late March
That warmer, wetter weather that comes with El Nino may begin to make its appearance sometime around the Spring Equinox on March 21st. That will bring near or slightly above average temperatures for the northern and eastern U.S.; and near or slightly below average temperatures for the south and southwest.
While climate is not the same thing as weather, climate change does make extreme weather more extreme. That's something to be aware of, whatever season is here. The majority of scientists agree that climate change contributes to more outlier-type weather, such as these unusual cold streaks.
What can you do help tackle climate change, all year long? Choose clean energy for your home electricity. Here at CleanChoice Energy, we help customers support clean energy over fossil fuels, supplying their electricity sourced from 100% pollution-free renewable energy. Learn how you can switch your home or business to CleanChoice Energy today!