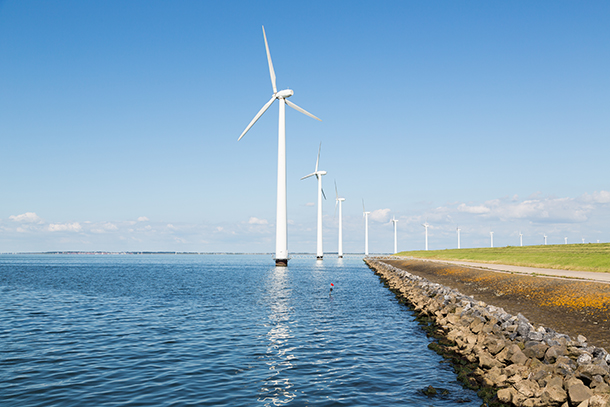 The very first offshore wind farm in the U.S. opened this past December off the coast of Rhode Island by Deepwater Wind. This marks an important accomplishment for the renewable energy industry in our country.
Despite this exciting development, the U.S. is a novice player in offshore wind technology. This is especially evident when compared to many European nations that operate highly advanced offshore operations across the world.
Leading the way to more U.S. offshore wind power is Danish company DONG Energy, which has committed itself to helping develop installations with American partnerships, especially in the Mid-Atlantic region.
Dominion Energy has partnered with DONG Energy to construct two wind turbines off the coast of Virginia, at Virginia Beach. At 600 feet tall, standing at a height equivalent to the Seattle Space Needle, these turbines will have a 12 megawatt capacity able to power 3,000 homes. DONG Energy, headquartered in Denmark with 22 wind farms across Europe and Asia, will be able to provide advanced knowledge that American developers simply do not possess at this stage. "We are excited to bring our expertise to America," said Samuel Leupold, Executive Vice President and CEO of Wind Power at DONG Energy.
The Danish company has also begun other, larger-scale US based projects. Bay State Wind, developed in partnership with Eversource Energy, has acquired rights to 300 square miles off the coast of Martha's Vineyard. This project will have the ability to create 2,000 megawatts of electricity to power 1 million Massachusetts homes, hopefully by the early 2020's. Ocean Wind, another DONG Energy initiative, is a 1,000 megawatt wind farm project to build turbines off the shore of New Jersey, which has some of the best offshore wind conditions on the planet.
Speaking about DONG Energy's partnership with Dominion Energy, Leupold further stated, "This project will provide us vital experience in constructing an offshore wind project in the United States and serve as a stepping stone to a larger commercial-scale partnership between our companies in the future. We see the tremendous potential in the Mid-Atlantic for emission-free, renewable wind generation and we are excited to help the Commonwealth in reaping the benefits of wind power."
Virginia Governor Terry McAuliffe also added, "Today marks the first step in what I expect to be the deployment of hundreds of wind turbines off Virginia's coast that will further diversify our energy production portfolio, create thousands of jobs, and reduce carbon emissions."
Offshore wind operations will be drastically expanding off of our coasts in the years to come. With the seasoned expertise of DONG Energy to guide the way, along with other potential experienced partners, this source of clean energy will likely grow at an excitingly exponential rate.
CleanChoice Energy supplies customers with 100% wind and solar power, with the mission of making clean energy accessible to everyone. We're currently sourcing energy from 50+ wind and solar farms in the regions we serve, and we're working to expand on that every day.