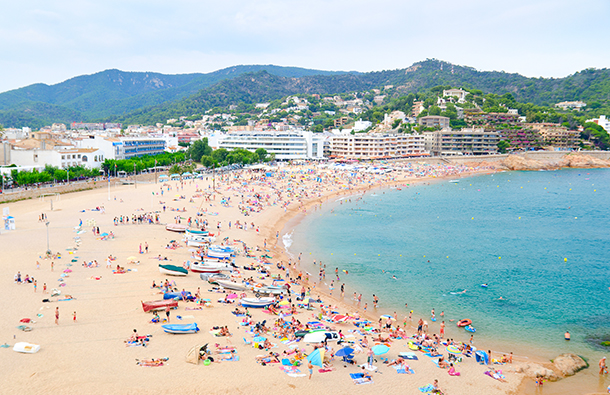 With summer just around the corner, many people will soon pack their bags for adventure and relaxation. Whether it's lounging on a beach, hiking in the mountains, or exploring another region's culture and history, travel planning season is here!
In a time when climate change is affecting the world around us, many are looking to enjoy a vacation while also making less impact on the places they visit.
What is the travel industry doing to meet a growing interest in sustainable tourism, sometimes referred to as "green tourism?" Read on to learn more. Plus, we're excited about highlighting some enticing examples of hotels around the world that cater to a more carbon footprint-conscious traveler.
The Travel Industry is Paying Attention to Energy and Sustainability Issues
A recent report published this month by the Integrated Sustainability Analysis supply-chain research group at the University of Sydney found that the carbon footprint of the travel industry is about three times bigger than researchers previously suspected.
International tourism is responsible for 8% of all carbon emissions worldwide—nearly as much as agriculture. The report is the first of its kind to tally data from 189 countries that considers all aspects of tourism—including airfare, hotels, food while traveling, and even souvenirs. It's a hot topic, as international tourism is increasing at a rate of three to five percent a year—faster than the growth of international trade.

Winter and snow sports venues are noticing less snow, with winters becoming warmer and the cold seasons and snowpack shrink. Beaches are experiencing rising tide lines and more storms. And other areas often visited as travel destinations are changing. Examples include warming grasslands and mountains that are losing their indigenous wildlife; and wetlands and waterways ecosystems becoming more fragile.
The good news is that the travel industry, as well as individual travelers, can and are acting to protect the planet and decrease their carbon footprints.
For example, increasingly, airlines, travel companies, governments, and individuals are purchasing carbon offsets to negate the affect of greenhouse gas emissions from air travel.
When it comes to hotels and other places to stay when traveling, energy-neutral—and even energy-positive—travel hotels and experiences are becoming popular. Previously, the environmental impact of how a hotel was built was not commonly given much thought by the industry nor by travelers. Now, it's something both care more about. That trend is resulting in some astonishing shifts in the hotel industry.
Consumers Have More Choice than Ever Before to Go Green
Travelers can reduce their carbon impact by traveling by train when possible, eating and shopping locally, consciously decreasing their consumption of energy and plastic, and researching sustainable and eco-conscious hotels and travel companies. Some countries have also been more proactive than others at promoting green tourism, so doing research before even choosing a travel destination can help as well.
Below are some of the new and noteworthy ways the tourism industry is working to reduce their carbon footprint and save the future of travel.
Looking for a way to reduce the effects of climate change every day? Now is the time to choose clean energy for your home or business. CleanChoice Energy is a green electricity supplier that sources 100% pollution-free wind and solar energy for residential and commercial customers. Learn how you can switch to renewable, clean energy today!

---

Environmentally-friendly places to stay when traveling to…
Belize - Itz'ana Resort: The new Itz'ana Resort & Residences in Belize will be the Caribbean's first carbon neutral luxury eco-resort. Built with local materials and completely powered by solar power and hydro-electricity, each villa hosts solar panels on the roof that provide half of the resorts power needs. LEED-certified buildings and a vegetable garden contribute to the resort's sustainable portfolio, which hopes to set an example that luxury hotels can be sustainable.
Alaska - Denali National Park's Sheldon Chalet: The Sheldon family has more than a half-century of history in the Denali area, which gave them a unique opportunity. Building upon a decades-old dream they have now opened up a tiny, exclusive luxury hotel in the heart of Denali itself. Respecting both the location and the implications of climate change in this stunning area, they worked to keep the footprint small—it can only host a maximum of ten guests—and to emphasize sustainability. Solar panels and a water supply powered by runoff are helping the hotel strive for carbon neutrality.
Maldives - Soneva Fushi: Built back in 1995, Soneva Fushi was sustainability conscious back before sustainability was cool. The hotel's founder Sonu Shivdasani worked to site the hotel without moving trees and built it out of local, sustainable materials. The hotel banned plastic bottles 2008, and instead offers guests in-house desalinated ocean water served in ceramic carafes. The archipelago's first solar array was built for the hotel in 2008 and produces 75 percent of the power the hotel uses. They recycle 90 percent of solid waste, and is continually working to be carbon-neutral and zero waste.
Norway - Svart Powerhouse Hotel: Above the Arctic Circle in Norway, an ambitious company is planning to open a revolutionary energy-positive hotel in 2021. Drawing inspiration from rorbu—traditional fishermen's houses that hover on stilts above the rocky water—the hotel will be constructed from native, natural materials and will boast more than 50,000 square feet of solar panels. Energy efficient building strategies will negate the need for air conditioning and allow geothermal heat to warm the rooms through the Arctic nights.
Location Undisclosed - Futuristic Pod Hotels: A partnership between a design studio and an architectural firm, these futuristic space-age looking pods will make up hotels in a variety of "visually stunning" locations potentially including destinations like New Zealand, Hungary, and Cabo Verde. The first location is yet to be revealed, but the hotels will focus on being carbon-neutral as well as utilize local materials and support sustainable agriculture and forestry.