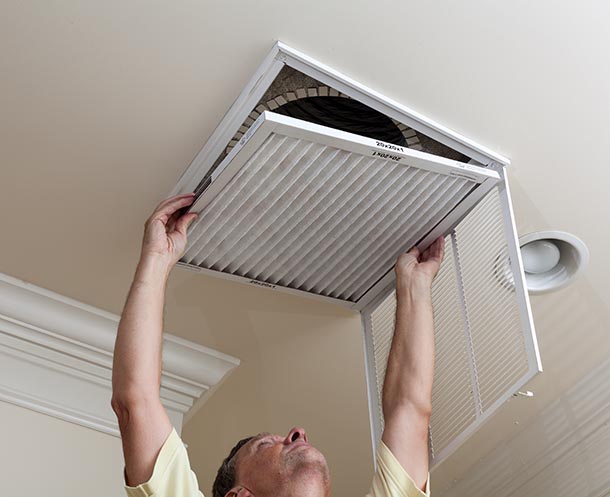 From what you eat and drink to what you breathe, good health is all about what goes into your body. What we inhale and exhale is essential to good health, and therefore clean air is important to us all. But how can we know we are surrounded by clean air, especially in our home? That's where air filters come in.
Thanks to the Clean Air Act of 1970, the federal government helps to regulate and control air pollution levels and air quality standards to protect public health. However, there are still toxins, carcinogens (like pesticides), and organic pollutants that one can be exposed to on a daily basis. Air filters are the first line of defense in removing irritating particles from your home. These include pollen, dust mites, textile and carpet fibers, mold spores, dust, pet dander, bacteria and tobacco smoke. Air filters reduce dust and mold levels, which is beneficial for asthma and allergy sufferers.
How do you choose the right filter for your home?
Compare the MERV (Minimum Efficiency Reporting Value) of filters to get the most effective filter. A higher MERV rating equates to finer filtration, meaning fewer dust particles and other airborne contaminants can pass through the filter. Most air filters made for the home have a MERV between 8-13. To achieve a MERV 13, the air filter must remove 90% of particles from the air.
How can replacing your filter help you save money?
To optimize your air filter's performance, they should be replaced at least every three months and more frequently in the summer and winter. When your filters are clean, your HVAC system will operate more efficiently, saving you money on your electricity bill. In fact, replacing a dirty, clogged filter with a new one can lower your air conditioner's energy consumption by 5-15%. Combine that with the knowledge that your HVAC is responsible for approximately half of your energy bill, and you could be saving as much as 7.5% on your monthly energy bill.
Regularly changing your filter also protects the health of your HVAC system. When a filter gets dirty, it provides resistance to airflow in your system, making your furnace or air conditioning unit work even harder to heat or cool your house. While this alone increases cost, it also contributes to the deterioration of your HVAC unit. So think of it this way: not only are you saving money on your energy bills, you're actually helping prevent an even more costly breakdown of your system where each major component can cost hundreds of dollars to repair.
When it comes to changing a home's air filters, most people simply forget about it, so they go unchanged for long periods of time. At Ethical Electric, we want to help you save the environment and save money at the same time. So, we have partnered with FilterSnap, an air filter subscription service that mails filters right to your door when it's time to change them. As an Ethical Electric customer you can try FilterSnap risk-free. Click the link below to get started, you'll receive your first filter free, with no shipping costs.
Try FilterSnap, Get Your First Filter FREE!
Besides changing your air filter frequently, there are other ways to ensure clean air for your home. Be sure to vacuum, as this improves your home hygiene and gets rid of dust and allergens. Try to select wood, tile, or vinyl flooring over carpeting. Carpet care expert, Rug Doctor, found carpets have a higher risk of developing mold and trap dust mites and dirt particles that aren't easy to see with the naked eye. Change and wash your bedding and other fabrics frequently. Depending on the material, these can behave like magnets, attracting all kinds of chemicals, metals, and soil.
The bottom line is that air filters can help improve your family's health and your home's hygiene. If changed frequently, your household will be filled with cleaner air with less harmful matter, and that's better for the environment and your wallet!