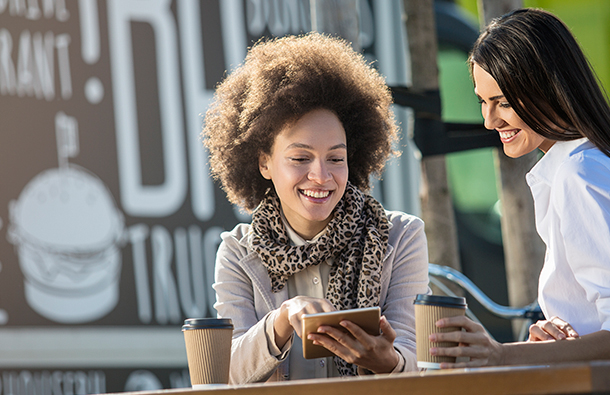 April 22nd is Earth Day, but we believe that every day is Earth Day. That's why all month long we're offering tips and tools that you can use to make a difference towards a healthy, happier Earth.
Ever heard of a "carbon footprint" and want to know more about it?
This Earth Month is a good time to learn more. Just as you might monitor your weight and diet as a part of staying healthy, it's helpful to know your carbon footprint and how you can reduce it. Using a carbon footprint calculator can help!
What's a carbon footprint? A carbon footprint is a number that reflects the total greenhouse gas emissions caused by an individual, organization, or product. (There are multiple greenhouse gases, but to keep things simple they are expressed as carbon dioxide (CO2) equivalents).
What's a carbon footprint calculator? It's an online tool that steps you through some basic questions about things like your housing, transportation, and how you handle trash. Based on your answers, it estimates your specific individual or household carbon footprint. This is often expressed in pounds of CO2 per year. There are many carbon calculators available for anyone to use. Here at CleanChoice Energy, we use the EPA's Greenhouse Gases Equivalencies Calculator. It's comprehensive—yet easy to use—and offers suggestions about how to lower your carbon footprint.
How is a carbon footprint calculator helpful for growing your green lifestyle?
It tells you where to start. Your carbon footprint today is your baseline for how you can make improvements to your lifestyle choices. A carbon footprint calculator provides personalized numbers based on your data inputs.
It suggests ways to make positive changes. The average carbon footprint for Americans is a good deal higher than the carbon footprints of people elsewhere in the world, but there are many ways to reduce yours.
Is home energy the biggest part of your carbon footprint?
If you're like most Americans, a carbon footprint calculator will show that a large part of your footprint comes from your home energy use. That means that switching to clean energy sources for your home will put the biggest dent in your emissions.
Since most Americans' homes are heated by oil and gas, we created our Clean Furnace plan so you can offset the amount of harmful greenhouse pollution that's created by the oil or gas your furnace burns.
If you want to do even more to reduce your carbon footprint, through our Replenish Our Forests program you can help support the sustainable care of trees in our nation's Appalachia region, an area hit hard by extensive logging and coal mining. With each $25 purchase of the CleanChoice Replenish Our Forests program, you support one acre of forests in Appalachia.
As a renewable energy company with a vision of the world free from the catastrophic effects of climate change, we help our customers switch the source of their home's electricity from dirty fossil fuels to clean wind and solar.
Learn how you can switch your home to 100% pollution-free clean energy today!