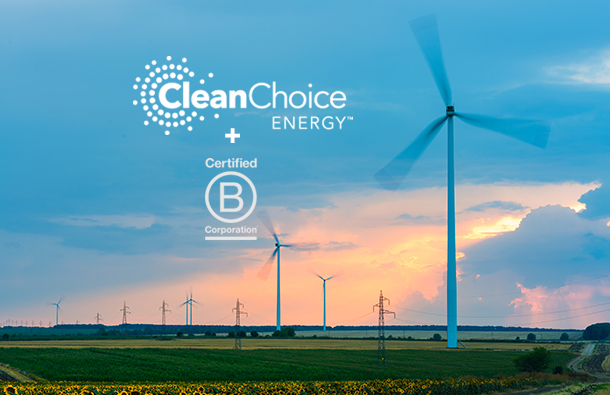 Did you know that CleanChoice Energy is a certified B Corporation? That means that as a B Corp, we're part of a community of companies just like us—purpose-driven, and creating benefit for all stakeholders, not just shareholders.
We launched our company as a Benefit Corporation and became a Certified B Corp because we believe in holding ourselves to the highest standards. We believe that by doing so we're demonstrating our commitment to positive social and environmental change. Like our B Corp peers, we don't just provide a better product, we're working to build a better world.
For more on what a B Corp certification means to us—and to our customers—we sat down with Chief Impact Officer and Co-Founder Richard Graves for a conversation about it.
Why did CleanChoice pursue a B Corp certification?
Having a B Corp certification is more than just the certification. It's about being part of a community of excellence that figures out ways to solve social and environmental challenges. Many certifications are about doing less harm, meeting standards and avoiding bad behavior, but a B Corp certification is about how to do the most good. It keeps businesses thinking about everything it's doing, every decision that's made—and its potential impact on the environment, on society, and for employees.
When CleanChoice Energy was founded, we wanted it to be a B Corp. CleanChoice CEO and Founder Tom Matzzie and I both came from social impact and social change organizations with missions about making the world a better place. B Corp takes that idea and applies in a really smart way related to how a company runs its operations. It recognizes that to do the right thing, you have to do the right thing in every area. Some companies may be good at impacts on the environment, but not as much as how well they treat their employees. Or, maybe they're really good at community, but haven't thought so much about the environment. The B Corp certification really puts it all together, so that even if a company has one focus, it has to consider more than that. It creates a mindset so that as a business you're picking the right partners, the right suppliers, and the right ways of doing things all across your entire operations. We're a triple bottom line business: we measure our performance based on our impact on society, on the environment, and our financial success. And, we let our customers know about the environmental impact they're making by choosing clean energy, as well as share that with our shareholders and investors.
What does being a B Corp mean to CleanChoice?
Having a B Corp certification is our way of showing our customers and community that we're part of a movement that is fundamentally doing business differently. We're building a new type of company that is trying to make the world better through our products, services, and operations, and that this is a solution to some of the really hard challenges in our society. So many of the problems that our society faces are due to short-term thinking. Companies try to maximize shareholder return and profits at any cost. But some companies are asking "How can we do things in a different way, create a positive impact, take care of our community and our employees, and create solutions, not cause problems?" That's what the B Corp community is about. Being a B Corp validates there is a better way of doing business, and you don't have to sacrifice financial returns. But you do have to rethink how you're doing things. There's a misperception that you can either make money or create social change, but not both together. This divide can be resolved by the B Corp community…creating value without taking something—giving back through business.
Why do CleanChoice customers care that we're a B Corp?
What our customers are looking for is a company that matches their values. They want healthy communities and a better world for their children. They also want to buy products and services with companies that care about those same things. A lot of times companies treat customers as though they don't matter, and then customers leave because they're not treated well. We think the most valuable aspect of our business is our relationships with our customers. We know that our customers want us to make the most positive impact that we can. We take that responsibility very seriously. So, we source wind and solar energy from new facilities that meet the best environmental guidelines, and that contribute the most to their communities. We also know that our customers want the process of sourcing clean energy to be simple. We care about things that other companies don't think about, whether we're advancing clean energy policies where our customers live, supporting more ways to offer renewable energy like with community solar, or buying from renewable facilities who also share our values. Ultimately, our customers stay with us because they know that we're always trying to do the right thing. It's who we are.
Why is a B Corp certification more important than ever today?
I think the B Corp movement is more important than ever. In the past year, we've all seen a world affected by the negative impacts of climate change. Those of us in the B Corp community have a vision of building a society that addresses climate change and offers real solutions, such as clean energy. So, having a B Corp certification is a real badge of honor and shows leadership in a time that we desperately need it. We're also really inspired by other B Corps. Our B Corp peers are innovators, and they push us to do better. We try to work with as many B Corp's as possible and look forward to having more B Corps in the world. When people see the B Corp label, we hope they know that it means business is a force for good.
CleanChoice Energy's mission is to make clean energy accessible to all. We supply customers with 100% renewable energy from wind and solar power. Learn how you can make the switch to clean energy today.